WD Black SN770 boasts up to 40% improved performance and up to 20% more power efficiency at maximum speed compared to the previous generation.
Western Digital, one of the leading players in digital storage solutions has just announced new SSDs for gamers. The new model christened WD Black SN770, is an NVMe based SSD with PCIe Gen 4 interface. The claimed speeds are up to 5150 MB/s³. Well, the company vaunts these, in comparison to the previous-gen model, would be able to deliver up to 40% better performance and up to 20% more power efficiency to your systems at maximum speeds. You can grab them in sizes between 250GB to 2TB in the country.
Here are their pricing and sale details.
WD Black SN770 Price and Availability
WD Black SN770 is available in sizes of 250TB to 2TB in India at prices starting from ₹4749. You can order them through amazon.in, primeabgb.com, www.themvp.in, pcstudio.in, kryptonitemicrosystems.com & mdcomputers.in.
And these are its —
WD Black SN770 Specs and Features
So, as you have read, they come in different sizes. They are based on NVMe standards and connect to PCIe 4 compatible motherboards. Also, if you have the older gen PCIe 3 interface, know that WD Black SN770 is backwards working too.
Now, these SSDs claim to hit speeds of up to 5,150MB/s³ and are said to offer up to 40% gains in performance and up to 20% benefit in power efficiency whence you use them at max speeds.
The company says this could mean "smooth streaming and minimal in-game stutter". WD also highlights the use of advanced thermal management which could impart "Consistent performance at maximum speed".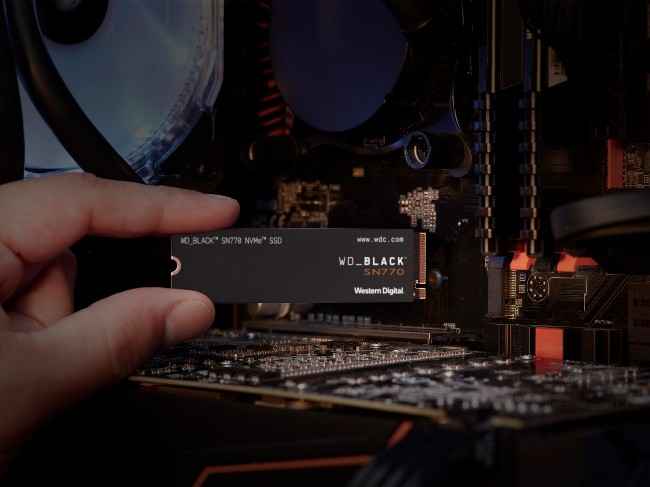 Mr. Khalid Wani, Senior Director – Sales, India, Western Digital, said, "Our WD_BLACK portfolio provides a variety of innovative, high-performance solutions that are purpose-built for every type of gamer, at every level. Today we have introduced WD_BLACK™ SN770 NVMe™ SS, which is designed for PC gaming with blazing fast speeds and additional storage for quick game load times, smooth streaming, and minimal in-game stutter."
"As more gamers look to make the transition to PCIe Gen4 systems, we believe it is important for the PC gaming community to have a variety of reliable, high-performing solutions to level up their gaming rigs," said Mr. Jaganathan Chelliah, Senior Director – Marketing, India & Middle East and Africa, Western Digital. "The new WD_BLACK SN770 NVMe SSD makes Gen4 technology more accessible, helping more gamers get into the game faster and improve their overall gaming experience." He added.
For more such news, buying guides, feature stories, reviews, and everything else tech-related, keep following Digit.in.