MIUI 13 brings a newer design, multi-tasking features, optimized performance, and security. Here's all you need to know about this MIUI update including the supported phones.
Xiaomi has launched the MIUI 13 in India. It is the newest update to the company's custom skin for Android. As such, it is based on Android 12 and shares many of the underlying features and refinements. Beyond this, Xiaomi has added in several new treats and refinements of its own. The notable additions include updated system apps, new widgets, Mi Sans font, creative live wallpaper choices, more customization, accessibility and multi-tasking options. As for the under-the-hood treatments you may experience the benefits of bug fixes, battery, and performance fixes.
So, there's plenty to cover. Let's start with the top MIUI 13 features and the devices that are eligible for this MIUI 13 update.
Top MIUI 13 Features
1. Improved Privacy
One of the concerns that you'd have while using a custom Android skin is the privacy side of things. MIUI 13 tries to address this with features like Privacy Camera (which takes account of your face and torso scan to ensure it is you and this data is stored locally), Protect Clipboard (which ensures apps don't have access to sensitive info without your permission), Approximate Location (spoof the shady apps), Virtual ID, Require Approval for accessing your phone number, App Behavior (a privacy dashboard), Prompt you when you install apps from unknown sources, and option to set watermark on scanned documents.
2. New Design Elements
These might be the things you see and tinker around the most. This includes Widgets (for Steps, Notes, Mi Home, Mi Gallery, Weather, Tossing a coin, and Rolling dice), smoother and more natural app/system animations) Live Wallpapers (like Molten Glass and Crystallization, which is Vitamin C crystallization process captured under a polarization microscope with an 8K time-lapse setting), Mi Sans font (for minimal and more legible text), revamped screenshot editor, 3rd party icon support on the default Mi Launcher, One-handed mode (like iOS Reachability), Control Center refresh, Adaptive colours within Color Scheme settings (similar to iOS true-tone feature that tweaks colours depending on the ambient light), and Smart sidebar (with the option to access up to 10 apps and use them in floating windows too).
Now, this release doesn't seem to have Android 12's Material You, i.e., system-wide dynamic theming based on the set wallpaper.
3. App Updates
Let's quickly go through the pre-installed apps that have gotten new features and settings. There is —
Camera (Shoot Videos with screen off and Dynamic Shots which is like Samsung's Live Photo or iPhones' Motion Photo), 

Gallery (Separate sections for All and clicked from Camera photos, a new Recommended Tab with goodies like Collage, Clip, Video Editor, Art, etc), 

Files App (Bifurcated between Recents and Storage pages, Encrypt private files, Disable Gallery items from showing up on the Recents tab) 

Clock (Bedtime mode, Sleep-tracking, and reports, Morning report)
4. Performance improvements and Bug Fixes
Now only new features and updates don't necessarily mean a good software experience. It should perform well and without glaring bugs. So, MIUI 13 brings about tweaks like Focussed Algorithms (dynamically prioritizes CPU/GPU resources to the active apps), Atomized Memory (claims up to 40% background process efficiency by killing unnecessary activities), and Liquid Storage (installed apps will be able to retain up to 95% of their read and write speeds even after 3 years). These under-the-hood features are coupled with lots of bug fixes. Let's hope these translate well in regular MIUI use. The company is at least confident when it claims with the MIUI 13 update, system apps would function smoother by 20-26% and 3rd party apps 15-52% while holding more apps in the background.
5. Battery
Things like power efficiency and battery life are also very important. MIUI 13 comes with three new modes called Power (claims to save up to 10% more juice by restricting the background activities), Balanced, and Performance (may result in heating, throttling, and heavy battery consumption). You may choose the mode based on your use case.
Now before we get to the eligible devices and availability details, here is a quick rundown of the best MIUI 13 features: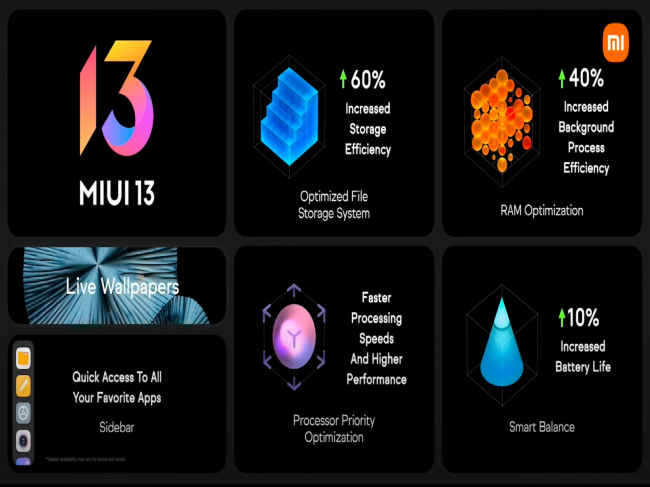 Improved Privacy

New customization options (like widgets, live wallpapers, and fonts) and Better multitasking features (like One-handed mode and Smart Sidebar)

App Updates

Performance Improvements and Bug Fixes

Battery
Now, let's see the phones that are eligible for the MIUI 13 (global) update in India.
MIUI 13 Global Supported Devices in India: Rollout/Availability Dates
 Here's a timeline of when the different Xiaomi devices would get the new MIUI software:
First Wave starting Q1, 2022
Mi 11 Ultra

Mi 11X Pro

Xiaomi 11T Pro

Mi 11X

Xiaomi 11 Lite NE 5G

Mi 11 Lite

Redmi Note 10 Pro Max

Redmi Note 10 Pro

Redmi Note 10

Redmi 10 Prime
More devices will join this list in the coming months. So, you can bookmark this page to know the updated list as and when Xiaomi reveals it.