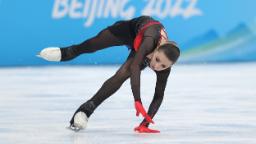 The ROC's Anna Shcherbakova placed first in the competition, dazzling with a spectacular free skate performance to top the field with a score of 255.95, guaranteeing a one-two finish for the ROC.
Valieva made mistakes on several different jumps throughout her routine, falling on a few separate occasions, ruining her chances at finishing first ahead of ROC teammate Shcherbakova.
The 15-year-old left the ice in tears upon the end of her routine, as she received loud applause from those in the stands, and was consoled afterwards as the emotions from the past few days appeared to catch up with her.
More to follow…