2021 was a good year for the overall Indian handset market and especially, the smartphone market saw gains in terms of total shipments and revenue. Even 5G phone shipments was on rise.
It looks like this pandemic has skyrocketed the usage of mobile phones owing to a rise in work from home and e-learning. So, even if there is an ongoing chip crisis and phones might not always be in stock, the same hasn't stopped or slowed down the Indian smartphone market. On the contrary, 2021 saw a surge in the overall handset market by 7% compared to the same period, last year. This data comes from technology market analyst Counterpoint, whose Market Monitor service reveals the Indian smartphone market's growth in terms of total shipments and revenue. 
Aside from this 7% YoY expansion of the market, the report also claims a 27% YoY jump in revenue, with a $38 billion gain just that year. The shipments, meanwhile, soared to 11% YoY.  Further, 5G-equipped phones clocked a shipment increase of 555% YoY in 2021.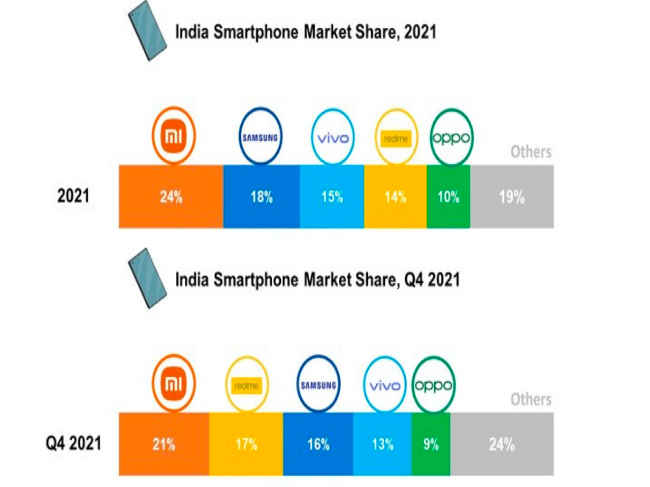 Now all the biggest brands in the market scored well, it was Xiaomi who led the pack with a 24% share in the shipment pie. It has raked in the highest ever share in the premium smartphone space (>INR 30,000) with a 258% YoY growth.
Then there is Realme which marked the fastest growing brand and managed to reach the second spot in the last quarter of 2021. 
Other interesting findings from the report include: 
OnePlus had its highest ever shipments in India in 2021 with a lead in the ₹30,000 to ₹45000 price segment.

Meanwhile, Samsung had its hold over the ₹20,000 to ₹45,000 smartphone market.

The report also shares insights on the Indian feature phone market. If you are wondering, it was Itel who has been leading that segment for the last two subsequent years.  
Tags:
Xiaomi
Realme
OnePlus
Samsung
Itel
Counterpoint
Indian Smartphone Market
Indian Smartphone Market 2021