IBM said today that it will deploy its first quantum computer in Canada, putting the country on a small list of countries with access to an IBM Quantum System One machine. The Canadian province of Quebec is collaborating with IBM to construct the Quebec-IBM Discovery Accelerator, which will improve research and development in the domains of quantum computing, artificial intelligence, semiconductors, and high-performance computing. IBM will deploy a Quantum System One as part of a Quebec-IBM Discovery Accelerator initiative addressing scientific and commercial challenges over five years.
According to the partners, the partnership will establish the groundwork for breakthrough energy materials and life science discoveries. The new technology centre will also focus on STEM education and talent development, with a particular emphasis on genomics and drug discovery. 
The collaboration will see IBM and the Quebec government promote microelectronics work, particularly advancements in chip packaging, due to an existing IBM facility in the province. The two also intend to demonstrate how quantum and classical computers can collaborate to solve scientific problems, and they anticipate that quantum-powered AI can aid in the discovery of novel treatments and materials.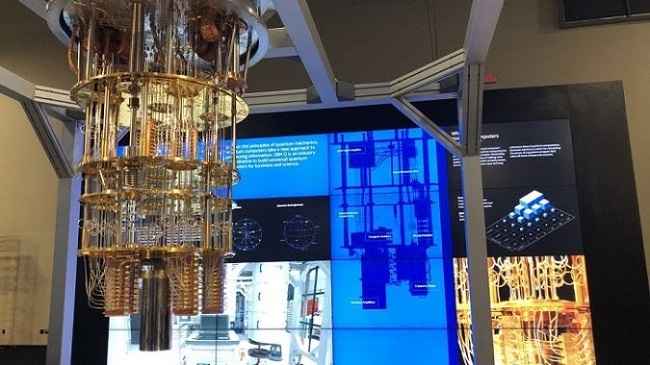 What is the IBM Quantum Computer?
The IBM Quantum System One is projected to be operational at IBM's Bromont, Quebec, facility by early next year, according to Anthony Annunziata, IBM's director of rapid discovery, in an interview with Reuters. IBM stated that the collaboration will make use of the company's expertise in semiconductor design and packaging.
The Quebec-IBM Discovery Accelerator, according to Dr Daro Gil, senior vice president and director of research at IBM, is "further proof of our commitment to building open communities of innovation to tackle the big problems of our time through a combination of quantum computing, AI, and high-performance computing, all integrated through the hybrid cloud."
According to Quebec Premier François Legault, "the specialised IBM quantum computer will open the way for us to achieve amazing advances in fields such as artificial intelligence and modelling." To add to his assertion, quantum physics is the future of computers. We're putting ourselves at the forefront of this future with our innovation zone.
IBM has announced similar collaborations in recent years with the Cleveland Clinic, the University of Illinois at Urbana-Champaign, and the UK's Science and Technology Facilities Council Hartree Centre. The Canadian Quantum One system is IBM's sixth worldwide installation, following engagements in the United States, Germany, Japan, and South Korea.

While IBM has generally offered its quantum computing platform as a service, the corporation announced the IBM Quantum System One as an on-premises option in 2019, billing it as "the world's first fully integrated universal quantum computing system."
IBM did not specify when the quantum computer will be installed. However, it will be just the sixth Quantum One installation by 2023, following similar collaborations in Germany, Japan, South Korea, and the United States. So Canada has joined a rather select group.
The country has a long history with quantum computing. After all, the contentious firm D-Wave is situated in Canada. Nonetheless, IBM's decision is important. It provides Canada with a more generic system capable of overcoming issues that are impractical to tackle with traditional supercomputers. This will not necessarily transform Canada's scientific community, but it may give an advantage until quantum computing becomes more ubiquitous.