Ghostwire: Tokyo is an upcoming game from developer Tango Gameworks that blends Japanese mythology with technologically modern Tokyo. This game departs from the studio's older Horror title, The Evil Within and is a fascinating concept, incorporating supernatural elements from Japanese folklore. We recently had the opportunity to get a closer look at its gameplay, giving us more insight into the game, the graphical fidelity and the game mechanics. 
Ghostwire: Tokyo – The Setting
Ghostwire opens with our protagonist, Akito, awakening after the "Vanishing", a supernatural event that caused most of Tokyo's population to disappear, with its streets being overrun by supernatural creatures. Akito is possessed by a demon named K.K. that manifests itself in Akito's right eye. While they each have their own ambitions, their unifying purpose is to discover the truth behind the Vanishing. 
Ghostwire: Tokyo – Combat and Mechanics
Because the foes in Ghostwire: Tokyo aren't comprised of physical matter, it didn't make sense to include weaponry like firearms or knives while developing the game's armaments. The ability "Ethereal Weaving," utilised to fight the creatures that emerged after the Vanishing, lies at the heart of Ghostwire: Tokyo's combat. It combines spiritual energy with fire, air, or water to deliver short- and long-range assaults against various opponents that need diverse playstyles to beat. Incoming strikes may be parried, and the player's supernatural abilities can be charged up to allow them to enter "Wire-In" mode and unleash more powerful attacks. 
 However, the game also incorporates weapons used in Japanese ceremonies and traditions, like a bow and arrow, as it is used in shrines as a symbol of purifying evil. The game steers away from modern versions of the traditional weapons it has incorporated, keeping the elements surrounding combat and storyline very uniform and seamless with the game's setting.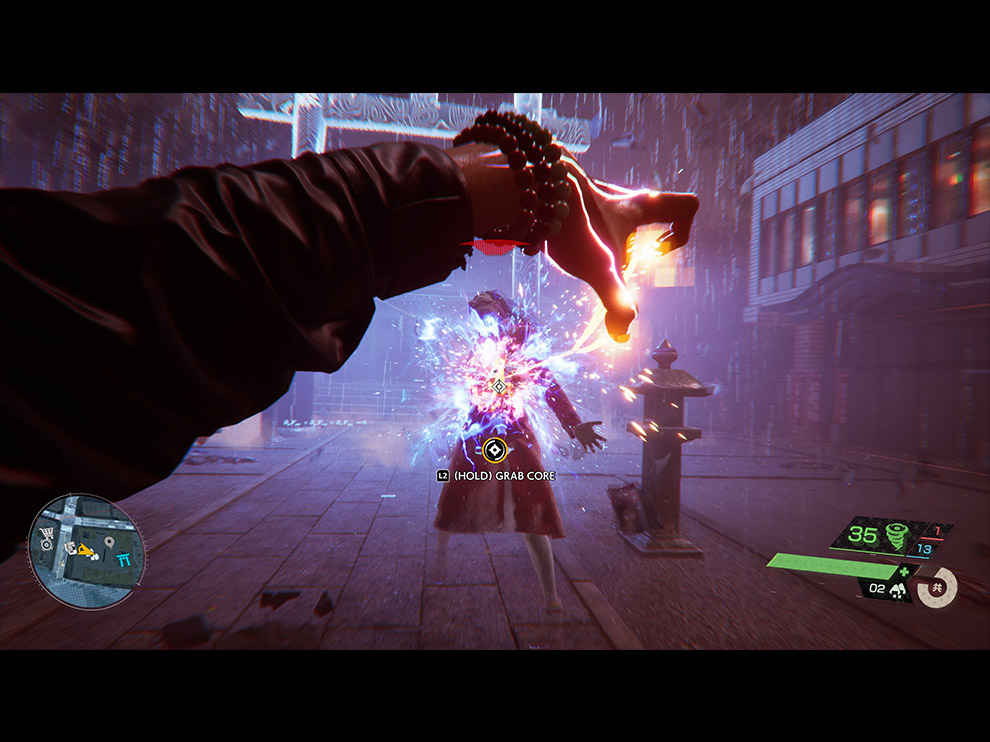 Though the city has grown significantly more deadly, Akito and KK are not threatened by all the beings sprawling the city. Some of these entities may be able to assist him in developing his magical abilities. Spirits that may be spotted wandering the streets are souls of the people that vanished at the start of the game. Akito may transport these souls back to the safety of the outer world via special phone booths built by a member of KK's crew, allowing him to level up and unlock new Spirit Skills. The player can also catch Yokai to harness their powers, and capturing each Yokai requires a different set of actions providing a variety of gameplay.
Ghostwire: Tokyo – Environment

Despite its unusual premise, Ghostwire: Tokyo's open environment seems to take on more classic genre characteristics. A basic menu map allows navigation of a Tokyo densely packed with primary objectives, side quests, and sites of interest, all requiring fighting foes inside a certain area to clear the surrounding fog.  These regions are identified by corrupted torii gates, which players must clean to dispel the mist, and there are dozens – large and tiny – strewn across Tokyo. Travelling about the city is also "a vital aspect" of Ghostwire: Tokyo and the player gets access to the Tengu Ability, which is effectively a grapple-hook. The player may grab flying Tengu monsters and use them to jump onto and across roofs, and he also looks to have a glide ability. The game seems to utilise the environment well, allowing the player not only horizontal but also vertical movement, utilising Tokyo's apartments and other high-rise structures. 
Ghostwire: Tokyo Gameplay Showcase – Conclusion

Ghostwire: Tokyo has a seemingly distinct aesthetic identity. The combination of a modern environment with supernatural and historical-cultural themes creates a unique experience. Despite the paranormal catastrophe, the game with its replica of Shibuya region provides a feeling of normalcy to the player, making it feel more familiar. The premise and the gameplay has us excited, what about you?
Tags:
Ghostwire Tokyo
Ghostwire Tokyo gameplay
Ghostwire Tokyo release date
Ghostwire Tokyo price
tango gameworks
the evil within