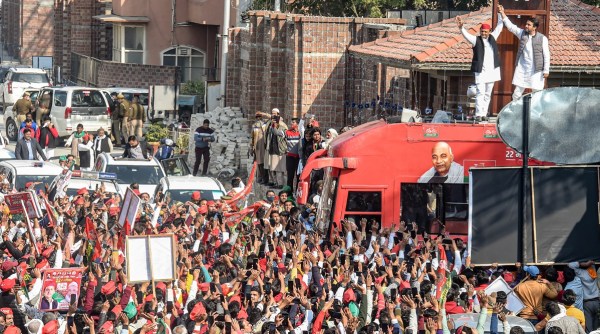 SP chief Akhilesh Yadav with Jayant Choudhary during a rally in Ghaziabad. (Photo: PTI)
The BJP may have sprung a surprise by fielding Union Minister of State S P Singh Baghel from Karhal against Samajwadi Party chief Akhilesh Yadav. But that's where the surprise ends, as per voters of this Yadav bastion. "Local boy" Akhilesh, they say, is up for a huge win. Karhal is located just 4 km from SP patron Mulayam Singh Yadav's village Saifai which, with its wide roads, multi-specialty hospital and colleges, is a shining example of what being a political titan's home can mean.
SP flags are fluttering at Jain Inter College in Karhal, where "Netaji" (as Mulayam is called) studied and briefly taught. Among a group of Class 12 students playing cricket there is Sanjay Yadav. Waiting for his turn to bat, the 18-year-old says: "Who knows Baghel here? Even a child here will tell you their leader is Akhilesh. Bhaiyya's popularity is unmatched. Yogi Baba (Chief Minister Yogi Adityanath) too would lose from here."
Her husband Bikram Singh Majithia is one of Punjab's most controversial politicians, his family one of the state's most prominent. Ganieve Kaur though was virtually unknown in his constituency Majitha in Amritsar, till, that is, she emerged literally out of his shadows, into the glare of the poll contest two days ago.
Kaur, 46, was given the Shiromani Akali Dal ticket from Majitha after Majithia shifted to Amritsar East – in true "Jarnail of Majha" bluster taking up the challenge thrown by state Congress chief Navjot Singh Sidhu to contest against him.